It's been ages since I've put on the bagel-baking apron, but with the impending craziness that the holidays bring, breakfasts and lunches on the go are starting to become more the "norm" than the exception. There's nothing that can truly beat a chewy, boiled bagel freshly made at home - except perhaps a chewy, boiled bagel freshly made in Montreal! Making bagels also allows a little more room to "play" with ingredients, since you can make a big batch of basic bagel dough and knead in additions as desired.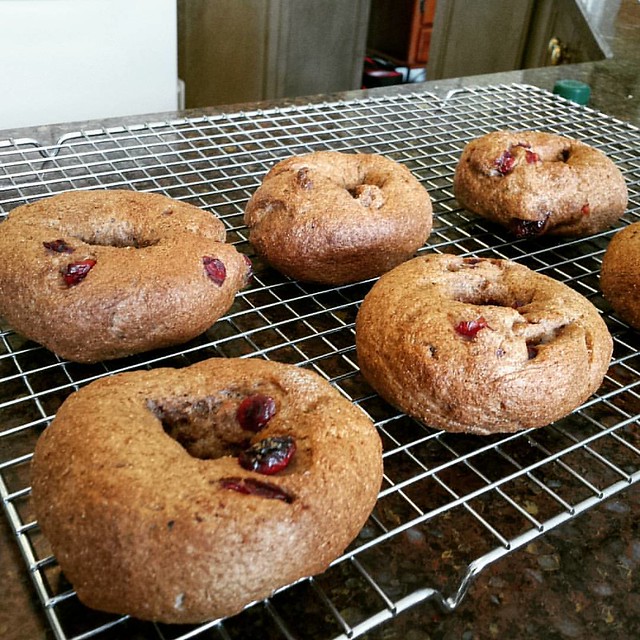 That said, I totally knew what direction I was heading in when I pulled out the flour, vital wheat gluten and yeast, and it was 100% driven by my mom's passion for a
certain muffin
as well as the timely prevalence of cranberry
everything
in my local store. With a decent helping of vegan blueberry yogurt, the fact that the bagels contained a hefty amount of bran (both added and in the form of whole wheat flour) didn't translate into sawdusty toast screaming for a mountain of butter (or another
Toast Topper - although a smear of
Blueberry Beet Butter or
Roasted Peach Jam is a great addition). Given that I was going for the "bigger is better" dough approach, I was really glad I had
a strong standing mixer - there is no way to get adequate kneading without one, and my
7-quart KA Proline
took the dough to perfectly smooth and supple with no problem. Next step is to get grinding my own flours, now that I have a
Mockmill
at my disposal!
It's once again time for
World Bread Day
, an international celebration of the fact that we have the luxury to not only have enough food to survive, but to be able to
enjoy
the food on our tables. This event has been hosted by Zorra at Kochtopf for ten years now, and the round-ups are always worth a perusal! Here are some of the
World Bread Roundups from the past
.
Cranberry Blueberry Bran Bagels
Makes 12 bagels, approximately 4 oz each
5 cups whole wheat bread flour
1 tbsp instant yeast
1 cup wheat bran
2 tbsp vital wheat gluten
½ tbsp allspice
2 cup warm water
¼ cup brown sugar
1 cup blueberry yogurt (I used
So Delicious Coconut Blueberry "Yogurt" Alternative)
¾ tsp salt
½ cup dried cranberries
2 tbsp maple syrup or honey (for boiling)
In the bowl of a stand mixer fitted with the dough hook, combine the flour, yeast, bran, gluten and spice.
Add the water, sugar, yogurt and salt and begin mixing.
Knead for about 10 minutes - the dough will be very stiff. Add cranberries and knead 2 minutes longer.
Place in a clean, oiled bowl, cover and allow to rise 1 ½ hours.
Punch dough down, separate into 12 equal pieces.
Let rest 10 minutes. Shape each piece into a ball, flatten slightly and use your fingers to poke a hole about 1 ½" wide in the middle. Rest, covered, for 30 minutes longer.
Heat the oven to 400F and line 2 baking sheets with parchment or SilPat.
Bring a large pot of water to a boil and add maple syrup.
Place 2 bagels at a time into the water and let boil for 1 minute, flipping after 30 seconds.
Scoop out with a slotted spoon and place on cookie sheet.
Bake 20 minutes, one sheet at a time.
Cool on a rack.
Amount Per Serving
Calories: 225.7
Total Fat: 1.5 g
Cholesterol: 0.0 mg
Sodium: 149.7 mg
Total Carbs: 51.8 g
Dietary Fiber: 8.6 g
Protein: 8.2 g