It really is no surprise to me that our fridge has a constant supply of fruit puree. We tend to buy slews of produce in spurts (especially if my stepdad makes a Costco trip alone) and although we are a family of fruit and veggie lovers, we can only go through so much of it before it starts to turn. By cooking down the softer apples, pears, nectarines, berries and even some of the sweeter or blander veggies (like carrots, baked winter squash, and zucchini) we keep their shelf life a little longer - and in the case of the veggies, being pureed with the sweet fruit is a great "extender" of both volume and calories.
Whenever we have too much puree on our hands (which doesn't happen often, but it does happen), I turn to the oven for inspiration. Applesauce is almost completely commonplace in baking these days, having the ability to partially replace the oil in things like quickbreads and cake. I simply take that a step further by taking one of my multi-ingredient mixtures in place of plain-jane apples. One of my favourite uses for any thick puree of fruit (or fruit and vegetables!) is as the base of a spicy snacking cake. Without the distractions of excess sugar, chocolate, frosting or chunks, the flavours of the sweet masala stand out along with the fruit, becoming a pan of fragrant, light, moist cake perfect for morning snacktime. In fact, the only adornment I bothered with was a "cheater" streusel of crumbled graham crackers - adding the merest hint of crunch and honey-sweetness and bringing the whole medley into perfect balance.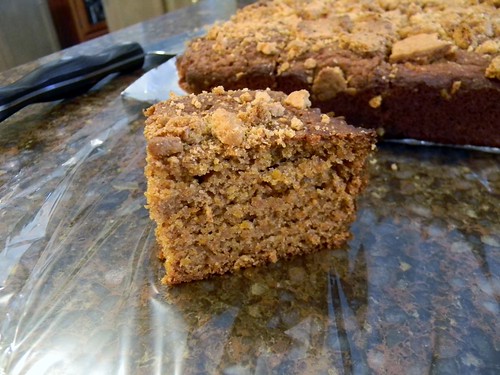 Fruit Butter Spice Cake
Adapted from Pastry Studio
Makes one 9" cake, 12 slices
¼ cup canola oil
¼ cup melted butter
¼ cup
xylitol
6 packets
Truvia
¼ cup sugar
1 egg
1 cup buttermilk
1 cup unsweetened apple (or any-fruit) butter -
I love using my Honeyed Carrot Cake Butter, but apple, peach or pear work just as well
1 ¼ cups whole wheat flour
1 tsp baking soda
½ tsp salt
1 tsp cinnamon
½ tsp cardamom
¼ tsp cloves
¼ tsp black pepper
¼ tsp white pepper
Zest of 2 oranges
2 sheets graham crackers, coarsely crushed, for crumble topping
Preheat oven to 350 degrees F. Lightly grease a 9" square pan and line the bottom with parchment.
In a bowl, beat together the oil, melted butter, xylitol, Truvia and sugar until blended.
Add the egg, buttermilk and fruit butter, mixing well.
Add the flour, baking soda, salt, cinnamon, cardamom, cloves, black and white pepper and the orange zest.
Mix until no streaks of flour remain.
Pour the batter into the prepared pan and top with graham cracker pieces.
Bake 40 minutes, until tests done. Cool completely in the pan.
Amount Per Serving
Calories: 221.3
Total Fat: 10.5 g
Cholesterol: 26.6 mg
Sodium: 73.7 mg
Total Carbs: 28.3 g
Dietary Fiber: 2.8 g
Protein: 3.5 g