I've been a longtime fan of blondies - after all, who can hate the rich taste of a brown-sugar, essentially chocolate chip cookie dough in a neat little square? While the "original" plain-Jane base is a work of art in itself, it's also ripe for customization depending on your tastes. Two of my all-time favourite recipes, for example, contain marshmallowy goodness that creates dense and fudgy bars, while
Gluten-Free Quinoa Blondies appeal to the "health food" lovers amongst my friends and family and
Genius Chocolate-Chip Blondies
are a sleeper hit with the kids. Combining two types of cookie in a blondie-esque bar never occurred to me, though - until I spotted recipes like these floating around the blog-o-sphere.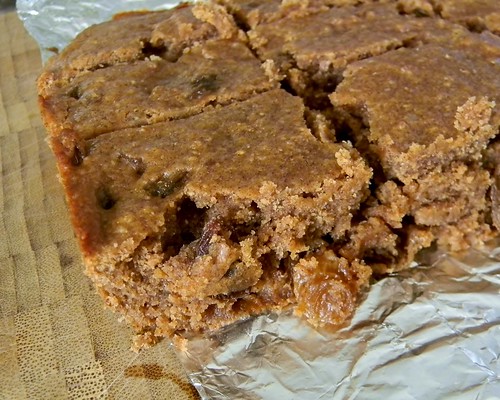 Ironically, I've never been one to crave snickerdoodles, but somehow fell in love with the idea of cinnamon bars. However, for me if there's cinnamon there needs to be raisins, and a richly flavoured base as well to enhance it's natural sweet and spiciness. Taking a cue from my previous blonde goodies and a basic recipe from Inspired Taste, I dialed up the batter with nutty, almost butterscotchy maca powder and chickpea flour, then packed in some raisins along with a glug of Goldschläger for good measure. They are definitely my preferred version of the classic cookie!
The theme for this month's
#CreativeCookieExchange
is Drunken Cookies! Cookies made with booze and/or inspired by booze, we have them all! If you are a blogger and want to join in the fun, contact Laura at thespicedlife AT gmail DOT com and she will get you added to our Facebook group, where we discuss our cookies and share links. You can also just use us as a great resource for cookie recipes--be sure to check out our
Pinterest Board
and our monthly posts (you can find all of them
at The Spiced Life
). You will be able to find them the first Tuesday after the 15th of each month! Also, if you are looking for inspiration to get in the kitchen and start baking, check out what all of the hosting bloggers have made:
Cinnamon Raisin Blondies
Adapted from Inspired Taste
Makes one 9" pan, 16 pieces
½ cup salted butter, melted
1 ½ tbsp cinnamon
2 tbsp
amber honey
¾ cup lightly packed dark brown sugar
1 egg
3 tbsp non-fat Greek yoghurt
1 tbsp vanilla
pinch kosher salt
¾ cup spelt flour
¼ cup chickpea flour
¼ tsp baking powder
2 tbsp
maca powder
½ cup sultana raisins, soaked in 3 tbsp Goldschläger (or other cinnamon schnapps)
Heat oven to 350F and line an 8" square pan with parchment paper.
Whisk together the butter, cinnamon, honey and brown sugar in a large bowl.
Add egg, yoghurt, vanilla and salt, blending well.
Add the flours, baking powder and maca powder, blending to incorporate well.
Fold in the raisins (along with any leftover boozy liquid).
Scrape into the pan and smooth the top.
Bake for 25-28 minutes. Cool completely on a rack before cutting.
Amount Per Serving
Calories: 155.2
Total Fat: 6.3 g
Cholesterol: 27.1 mg
Sodium: 52.8 mg
Total Carbs: 26.5 g
Dietary Fiber: 1.4 g
Protein: 2.3 g